Capturing attention through the silent testimony of quality.
Greeting
Since the founding of our company in 1970 we have been engaged in the manufacture and sale of blade tools, holding true to our business philosophy of "capturing attention through the silent testimony of quality." We have arrived where we are today through adherence to high manufacturing standards, fulfillment of needs as they advance and diversify with the age, and continual pursuit of quality and product improvement. We fully attribute our success to the support and patronage of our customers, for which we are deeply grateful. We approach the future ready to adapt to the sweeping changes of the age, yet without loosing sight of the essence of blade tool manufacturing. It is our constant aim to provide further elevation of precision, quality, and stability - uniting staff and equipment to meet the expectations of our customers. We appreciate the continued support we receive, and look forward to all opportunities to serve your needs in the future.

Company Profile
Name:
SHINSEI CORPORATION
Established:
July, 1973
Capital:
JPY 10,000,000
Representative Director:
Tetsuya Sato
Company Location:
745 Terawaki-Cho,
Minami-Ku,
Hamamatsu City,
Shizuoka, Japan
Business enterprise:
Development,
manufacture,
and sales of cutting tools
Product List:
▪︎Metal Processing Tools
▪︎Wood Processing Tools
・Cutter・Router bit
▪︎Diamond Processing Tools
・Cutter・Router bit
Corporate history
| | | |
| --- | --- | --- |
| 1970 | | Toshiro Sato founds Shinsei Kogyosho in Zudaji-cho, Hamamatsu City. |
| | | Manufactures cutters and routers for woodworking. |
| 1975 | | Reorganized as Shinsei Kogyosho Co., Ltd. |
| 1980 | | Reorganized as Shinsei Kogyo Co., Ltd. |
| 1987 | | Introduced an automatic brazing machine made in Germany. |
| 1992 | | Moved to a new factory (Terawakicho). |
| | | The second generation Mitsuru Sato becomes the representative director. |
| | | Introduced a tip grinding machine with an automatic feeder made in Germany. |
| 2005 | | Exhibited for the first time at the Woodworking Machinery Exhibition 2005. |
| | | From OEM supply to establishment of own brand. |
| 2007 | | Exhibited at EMO Hannover (Germany). |
| | | Started exporting to each country and built a partner. |
| 2008 | | Exhibited at IMTS Chicago, JIMTOF Tokyo, METALEX Bangkok. |
| 2009 | | Obtained ISO9001 certification. |
| 2012 | | September Expanded the second factory and expanded the facilities. |
| 2017 | | June Established a joint venture, Shinsei Thailand, in Bangkok. |
| 2020 | | Celebrate the 50th anniversary of its founding. |
| | | October: Appointed as Representative Director of Tetsuya Sato. |

Machinery Equipment List:
1F
❶ NC Surface Grinder
❷ Full Automatic Tension Press Machine
❸ Full Automatic Brazing Machine
❹ Full Automatic Tip Saw Griding Machine
❺ 3D Measuring machine
2F
❶ Full Automatic Tip Saw Grinding Machine
❷ Laser Marking Machine
❸ Micro Scorp
3F
❶ NC Electric Discharge Machine
❷ Universal Tool Grinder
❸ NC Lathe
❹ Lifting board cutting Test Machine
2nd factory
❶ Full Automatic Tip Saw Griding Machine
❷ Micro Scorp
❸ Metal Cutting Test Machine
Our Vision
Achieve fulfillment of customers and employees and enrich society by practicing "Building trust through exceptional craftmanship combined with state of the art machine technology
Branding
Our brand logo mark show express our disire to deeper and smooth comucnication with everyone.
So we can provide our genuine product with prcatial provide our client companies with genuine products with practical strength.
SDGs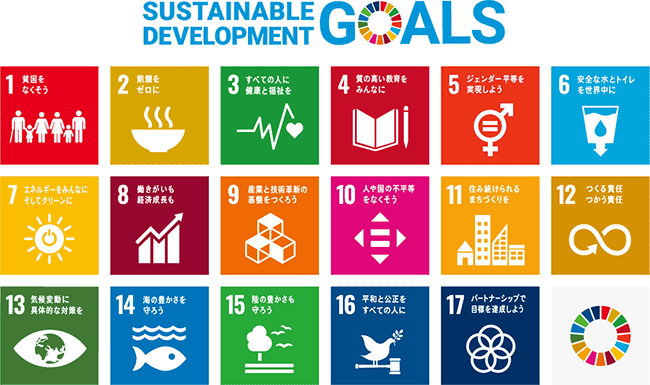 Contribute to "SDGs", we keep trying practice to realize of sustainable society through our management.
In order to achieve a prosperous future, we would like to work with our costumers to improve our product and make people happy with the cutting technology that is the very basic point of manufacturing.