FEATURE OF PROCESS
Elegant blade bodies formed according to
uncompromised standards of our technicians.
BODY PROCESS
The body of a blade tool is a factor which significantly affects cutting accuracy. Based on this understanding, only those products that meet the strict standards of SHINSEI quality checks are submitted for quenching, after which they are subject to scrupulous inspections and compensation by our expert technicians, and a tensioning process which gives induces high strength and durability. In addition, brazing is performed on state-of-the-art German-made machinery, with sandwich silver alloy solder used to strengthen brazing against cutting resistance. In our uncompromised pursuit of quality and efficiency we have invested in high precision surface grinders and employed highly skilled technical staff. This fusion of advanced technology with top-notch skill stands as proof of the unmatched reliability of SHINSEI brand tooling.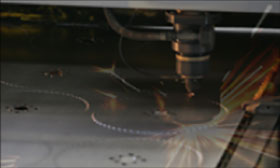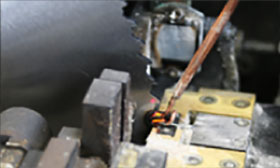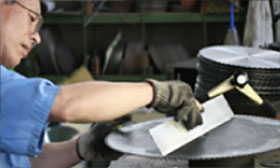 Employing over 40 advance technology
systems for sharpness grinding.
GRINDING PROCESS
The life of a blade product is its "sharpness", which depends on the brazing and grinding by which it is processed. SHINSEI has therefore invested in state of the art equipment for this stage of processing, in which we put to full use our high-level skill cultivated through many years of experience. Through fully automatic grinding of blade faces, sides, and tips performed by our original robotic grinding system, we have raised precision of this process by leaps and bounds. Through these German made grinding systems we have also achieved increased productivity through labor reduction. Quick deliveries are backed up by this production efficiency; High quality is realized through our high precision processing systems. As a result of these qualities, SHINSEI tooling is widely employed by top OEM companies and has earned the generous trust of end-users as well.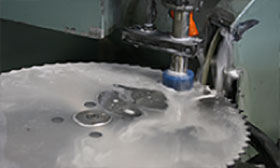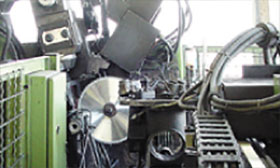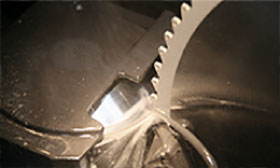 Achieve high productivity in the non-stop operation of the EDM
DIAMOND PROCESS
SHINSEI diamond tools are produced on state of the art NC electric discharge machinery. Through 24-hour, high-productivity operation we manufacture a complete range of PCD diamond tools.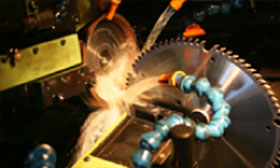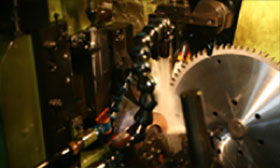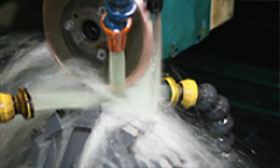 After rigorous inspection
We provide products of reliable quality.
Final inspection / Delivery
All blades that have been polished are inspected using a microscope or the like. After rigorously checking for defects in appearance, and if necessary, performing a cutting test with a cutting machine, we carefully pack and ship.